The Break Room
You've probably heard of rage rooms, we like to call it The Break Room. Here's how it works: you'll get suited up in full protective gear including coveralls, a face shield, gloves and a vest. Then pick the instrument you want to break things with (a baseball bat, crowbar, sledgehammer etc.), and choose items you want to break (glassware, mirrors, printers, TVs etc.). Blast your favorite music and start breaking! It's a great way to relieve stress and constructively channel frustration.
***The Break Room is operated by a separate and distinct entity than Mastermind Escape Games. Mastermind Escape Games does not have any involvement in the operations of The Break Room. Location & Contact Info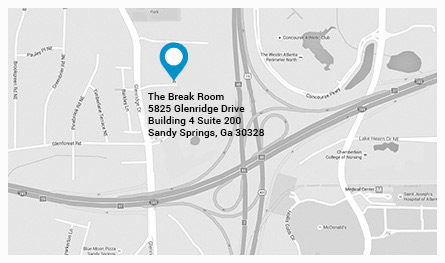 The Break Room
5825 Glenridge Drive
Building 4 Suite 200
Sandy Springs, Ga 30328
404-480-3852
Email Us
Hours of Operation
Monday - Thursday 12 pm - 8 pm
Friday - Saturday 10:00 am - 12:00 am
Sunday 10:00 am - 9:00 pm
The Break Room Rules
You must wear long pants and close toed shoes (No skirts, dresses, kilts or shorts)
You must wear all your safety gear at all times in the Break Room
No more than 2 people can swing at an object at the same time in the swinging area, and must be at least 8 ft apart
Only swing at or throw items in direction of throw wall
No swinging or throwing items at ceiling, floor, or in opposite direction of throw wall
Only approved swinging equipment permitted
All throwers must be 3 ft apart from each other
Items can only be thrown when all participants are behind throw line
No one under 18, expectant mothers, persons with major injuries, of bad health, or intoxicated is permitted
You must listen to employees instructions at all times
Waivers must be filled out before entering The Break Room
Use good judgement and pay attention to surroundings
Anyone watching must stand behind throwing area
Photos and videos are allowed and encouraged!
Frequently Asked Questions
Can I have friends or co-workers in the room with me?

Yes as long as you know the person/people (no strangers allowed in the same room)

Can friends watch me while I am in the room?

Yes, friends can watch us from the safe area in the room while we are in the room.

Can I purchase a copy of my session?

We currently don't offer video for sale however you can take your own videos and pictures. For an additional $10 fee, you can pay to have a "Professional Breaker" record and take pictures. This fee also includes pitching of items as well 5 additional small items.

Can I have friends or co-workers in the room with me and share my package/time?

Yes, your booking is private. You are allowed up to 5 additional friends in your party for your break room experience, but please keep in mind we suggest at least 15 items per person in the room so a larger package or A La Carte items may need to be purchased.

Can you customize a room with what I want in there?

Yes we can customize a room but will need at least a week lead time to get it ready and get priced out for you

Can anyone come try out your rooms?

Anyone 18 or older can come as long as they are not expecting, injured or in bad health

What is the purpose of this place?

The main objective is to have fun and relieve your stress and try something different with your friends and co workers, we have had numerous customers tell us this was more satisfying then doing a martial art class, yoga or other group activities

Can I bring my own items in to the room with me?

Yes we charge a $10 per box fee up to 30 lbs for any items you want to bring which covers the cost of cleanup/dumpster etc.

What type of people come to your rooms?

We get people of all types including date nights, corporate team building, anyone with extra stress. Most of our customers are business people, teachers and other regular people that just want to try something different and have a memorable experience
Rage Room Atlanta
As seen on Fox 5 & Good Day Atlanta. The Break Room is the first rage room in Atlanta. The concept of channeling your frustration in a safe and healthy way is nothing new though. It has been proven that releasing pent up stress and aggression is actually very therapeutic! Some people hit a punching bag, others may do an intense work out or listen to heavy metal music. But it all has the same effect as our rage room. Hitting or breaking things is actually a great way let go of negative feelings, plus it's actually really fun! Remember that scene from the movie Office Space? Where they take a bat and destroy the copy machine to let out frustration from work? That's what you'll experience in The Break Room Atlanta.
You'll have access to many different items to break, and to break things with, and even get to listen to your favorite music while you do it. Our rage room in Atlanta is a one of a kind experience that will keep you coming back for more.
The Break Room in Atlanta is operated by a separate and distinct entity than Mastermind Escape Games. Mastermind Escape Games does not have any involvement in the operations of the Break Room.