Our Escape Rooms in Overland Park, KS
Mastermind Escape Games is now in Overland Park! Conveniently located near Kansas City and it's surrounding suburbs, we are the premier escape room experience in the area. So what exactly is an escape room? It's a new form of entertainment and gaming where you are locked in a room, tasked with a mission, and the only way to succeed is to solve your way out. Each room, or game as we call them, has a different theme and mission with different clues and puzzles to discover. You'll only have 60 minutes to beat the game and escape, so you'll have to collaborate with everyone in the room to succeed.
Purchase Gift Cards!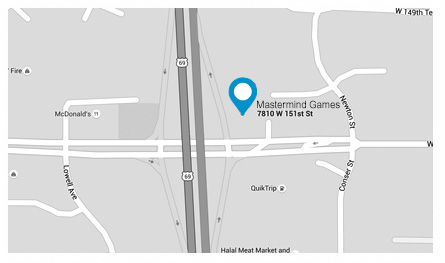 7810 West 151st Street
Overland Park, Kansas 66223
913-827-0999
Email Us
Hours of Operation
Monday - Thursday 12 PM - 8 PM
Friday 11 AM - 12 AM
Saturday 10 AM - 12 AM
Sunday 10:00 AM - 8:00 PM
Games at Our Overland Park, KS Location