Scroll Down to Book a Game

Our Escape Rooms in Overland Park, KS
Conveniently located near Kansas City and it's surrounding suburbs, we are the premier escape room experience. So what exactly is an escape room? It's a new form of entertainment where you are locked in a room, tasked with a mission, and the only way to succeed is to solve your way out. Each room has a different theme and mission with different clues and puzzles to discover. You only have 60 minutes to beat the game and escape, so you'll have to collaborate with everyone in the room to succeed. *Please note this location is not handicap accessible.  
Purchase Or Redeem Gift Cards!
Games at Our Overland Park, KS Location
Have a Large Group?
Mastermind is the perfect place to host your next team event, field trip, birthday party, or family gathering. Email or call with questions or to check multi-room availability.
Mastermind offers both in-person and virtual game options for large groups.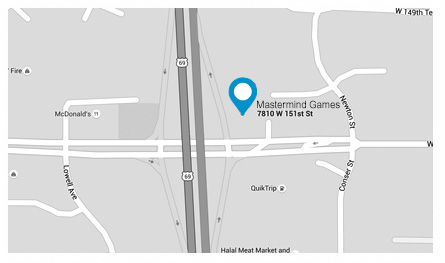 7810 West 151st Street
Overland Park, Kansas 66223
KCinfo@MastermindEscapeGames.com
913-827-0999
Hours of Operation:
Monday- CLOSED
Tuesday-CLOSED
Wednesday-12:00-8:00 PM
Thursday-12:00-8:00 PM
Friday-12:00-10:00 PM
Saturday-12:00-10:00 PM
Sunday-12:00-8:00 PM