Four Effective Team Building Tips for Businesses
|

In our post-recession economy, team building has become more important than ever. To reduce the turnover and lack of communication that increasingly drags down productivity, we must allow teams to evolve and flourish organically in order to make everyone not only happier, but work better together.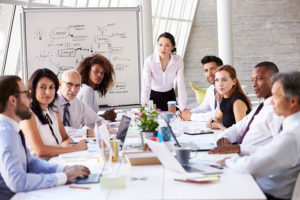 Leadership expert Glenn Llopis says that team building exercises have been "on the rise in corporate America because there's been so much turnover and change that the organization has had to become a more integrated teamwork-dependent culture." This shift towards recognizing each team member as important and unique will help businesses go farther than any capital investment ever could.
So, to help improve the office atmosphere and ensure that your employees can accomplish more as a group than they could ever do alone, consider trying these four team building ideas:
Get Introspective
Your first step is to assess your team as it is from the head decision maker's perspective. Take the time to map out how your decisions and policies affect the team.
In other words: evaluate your leadership style. Even the best team will never excel under an ineffective leader, so leaders owe it to their organization to ask tough questions about what they do. Identify your personal strengths and weaknesses as a leader, and define them through concrete policies or actions. Do these typical actions allow team members to become interdependent and flourish as a group, or do they encourage in-fighting?
By considering your approach, you can determine what changes need to occur from the top-down to create ideal conditions for team building.
Find Out Who Your Team Members Are
We all wear masks at work, which often leads to assumptions about who the gal or guy is sitting at the desk across the hall. To truly become an effective team, we must break down some of these barriers to get a clearer idea of who the real, complex human being is behind the mask.
To do so, start with interviews. Avoid too personal of questions, naturally, but try and suss out each employee's self-perception, their goals and aspirations, the tasks they feel best at, the work they enjoy the most, the areas they want or need help in most often and other important details about their unique working style. Emphasize that their answers will be consequence free, and that your only goal is to listen and learn.
Recognize and Reward Merit
Behavioral conditioning means that hard, quality work that goes unrecognized essentially communicates to the employee that such work isn't valued. Instead, encourage good work, extra effort and other positive behaviors by taking the time to reward employees who have gone above and beyond the norms.
This practice will encourage pride, enhance office positivity and increase the likelihood that desired behaviors will happen more frequently.
Put Your Team to the Test With New Experiences
Going over the same daily grind allows us to overlook glaring areas that need more attention, be they positive or negative. Trying something new and putting your work team "out of their element" can shake out these oversights and give everyone a chance to reflect on how their actions affect the team.
More importantly, new situations can give everyone a chance to shine. Challenge people, take them out of their comfort zone and give them the opportunity to prove their worth in unique ways. At the same time, they will have critical bonding time that can dramatically improve the working dynamic of teams, not to mention their trust.
Practice These Team Building Ideas in Action at Mastermind Escape Room
Escape Rooms are the perfect team building exercise for encouraging bonding, creating opportunities for team members to excel and bringing offices together as a family. These unique, endorphin-driven experiences create situations where everyone works together while making the most of their individual strengths.
Even if your team does not succeed in making it out under the time limit, they will have fond memories of spending time together outside the office setting, watching each team member step up to the plate with their own unique perspective and skills.
Take a look at our Peachtree City Escape Room options and our Sandy Springs Escape Room options to book the experience that will have everyone in the office talking for weeks.